Babyfaces Charms And Pendants - 14kt Gold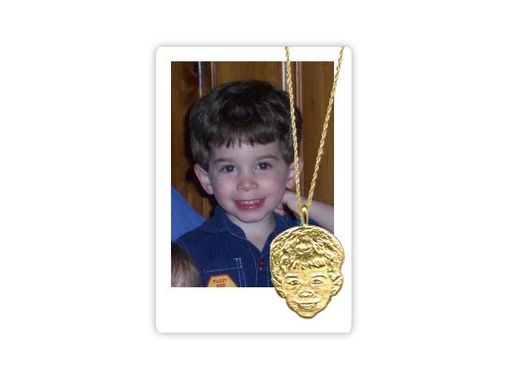 Each BabyFaces 14kt gold charm or pendant is created from your favorite photo of your child or loved one. Each is available with a bail for a necklace or a jump ring to go on a bracelet
All of our products are handmade
in America by expert makers.
jnjiles's review

• Apr 29th 2015

Happy customer, I decided to get a pendant done of my mother. Joel contacted me back within a short time, he let me know what picture would probably work best due to me only having printed pictures. Also I wanted to have it engraved with her name and dates of birth and death, he let me know what would be the best way to print due to sizing of pendant. This being my first project I didnt know what to expect, and he made it a breeze. Joel let me know that it could take up to three weeks for it to be finished, I was happy that he was able to have it done within two weeks. When I finally seen the finished product it was a lil creepy, lol. Let me say not in a bad way, I felt that way due to it being so dead on the picture I sent him of my mother. I'm so thankful that he's gifted with making pendants. This really means the world to me, to have another piece of my mother that I can pass on to my child. Overall A+, will be returning..