Chatham Padparadscha Pink Sapphire, Moissanite, And Recycled 14k Rose Gold Three Stone Ring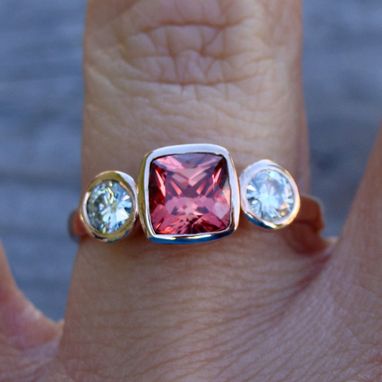 An incredible 6mm Chatham lab created padparadscha sapphire in a striking shade of pink sits in a handmade tapered bezel flanked by a pair of bezel set 4mm moissanites on a delicate 2mm wide comfort-fit band. All of the metal used in this ring's construction is 14k rose gold from recycled sources

This ring is a size 7.75 (US) and is, of course, hand made by me.

Sapphire is a September birthstone.

Lab created stones (also referred to as man-made, synthetic, or cultured stones) are NOT fakes. They are chemically and optically identical to their mined counterparts, but by growing them in the lab, many of the environmental and humanitarian problems inherent with gemstone mining can be avoided. This particular stone was created by Chatham Gems, a leader in created gemstones. According to the company, "Chatham does not make gemstones, we make environments in which crystals grow naturally." In other words, these are real gemstones that are cultured in a laboratory - natural components are placed in an environment created to duplicate nature's. Once the required combination of chemical and environmental factors is created, the crystals grow over the course of a year, the length of time depending on the gemstone. As a result, quality diamonds and gemstones are developed with identical physical, chemical, and optical properties to those found in nature.

If you're not familiar with moissanite, allow me to blather on a bit regarding what I've learned about this amazing material. Moissanite was originally born from a meteorite over 50,000 years ago, and was first discovered by Dr. Henri Moissan in 1893 in material collected from a meteor crater in Arizona. These incredibly brilliant sparkling crystals might have been considered "diamonds from space," but Dr. Moissan's research actually identified them as a new mineral find - silcon carbide, whose chemical composition is SiC (diamonds are made from carbon). This stunning jewel is extremely rare, and almost impossible to find in nature. So rare, in fact, that the dream of using it in jewelry was an impossibility until man discovered a way to create and craft these incredible silicon carbide crystals here on Earth.

With more fire than any popular gemstone (including diamond), no other stone or jewel compares to Moissanite. In fact, fire can be measured scientifically and moissanite has nearly 2.4 times the fire of diamond. Moissanite also has 10% more brilliance and luster than diamond. Proven to be harder than ruby, sapphire or emerald and second only to diamond, moissanite is also extraordinarily heat resistant, durable, and tough. It is extremely resistant to scratching, abrasion, breaking and chipping. And because these phenomenal stones are grown in a laboratory, you don't have to worry about the ethical problems involved with harvesting diamonds and other mined gems.

Pretty cool, huh? :-)

Due to the value of this piece, shipping costs have been adjusted to include insurance within the United States. I do offer international shipping; if you live outside the US, please contact me for a quote specific to your location. Due to the lack of availability of insurance through the US postal service for international packages, I use FedEx when shipping overseas; this is a more expensive but far safer option. International buyers, please be aware that you are solely responsible for any duties/taxes that your country may charge on imported goods.

As is all my jewelry, this piece is vegan, meaning no animal products (pearls, silk, leather, etc.) were used in its construction.