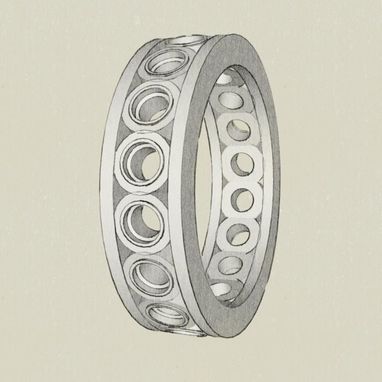 The new technology in jewelry making is CAD Designed Jewelry. While my background is in hand crafted jewelry making, I also have a degree in Architecture, and have many hours of experience in working with CAD. Between my CAD Design experience, and my hands on background in the shop, I am well suited to creating beautiful designs on the computer, and then bringing them to life in the shop. This new technology allows you to see a very accurate representation of what your finished piece of jewelry will look like before you even spend a dime.

The picture is just one example of a simple eternity ring, ready to be cast and set with the stones of your choice. This model only took me a few minutes to make, I am that quick!

So go ahead and send me a message with your custom design request! My specialty is in geometric and bold shaped design work.
All of our products are handmade
in America by expert makers.