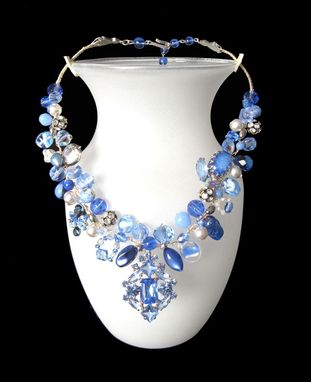 M429 Forget Me Not Necklace:

Vintage 1940s European Silver Plated Swarovski Rhinestone clasp with vintage glass beaded extender.

Beautiful handmade Czech Rhinestone Sapphire pendant with prong-set stones.

Vintage Lucite Moonglow oval.

Vintage German glass twisted oval.

Czech glass givre flattened teardrop with white and blue inclusions.

Vintage Japanese glass silver pearls (6).

Freshwater Silver Keshi Pearls (3).

Vintage Japanese Art Glass Baroque oval with Silver Foil inclusion.

Fabulous vintage "Coro" earring with large Art Glass oval stone and Rhinestones.

Vintage Japanese Sapphire glass givre nuggets with white inclusions (3).

Swarovski Rhinestone Ball beads (4).

Vintage Japanese glass blue-speckled rounds with aventurina flecks (2).

A variety of exquisite vintage Swarovski Sapphire and Sapphire Aurora Borealis Crystals.

Vintage Czech glass Dark Sapphire faceted 10mm rounds (4).

Vintage 5mm Forget Me Not blue glass rounds (2).

Vintage Swarovski Light and Dark Sapphire Rhinestone earring.

Blue dyed Freshwater teardrop Pearl.

Rare vintage West German Forget Me Not blue faceted Milk Glass rounds (2).

Vintage 1960s Czech glass Dark Sapphire rounds (1 + 8 on clasp).

Vintage German Lucite Bell Flower.

Vintage Japanese glass ridged round with white core.

A variety of vintage Czech glass faceted crystals.

Vintage West German glass 5mm spacers (3).

Czech glass Sapphire teardrop.

Faceted Blueberry Quartz Briolette.

Vintage Art Deco Venetian Glass disc with Silver Foil inclusion.

Small vintage Molded Acrylic Silver Plated ovals (4).
Dimensions: Adjustable