Monstera Leaf Set With Pearl Jumble Necklace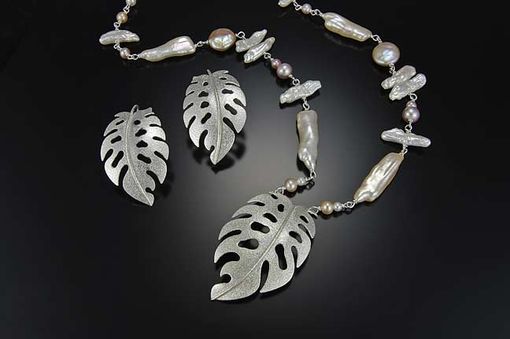 The Monstera Leaf is a Hawaiian Tropical Vine with Enormous Leathery Leaves that love to grow in the wet lush jungle environment. Its lovely intricacies make each leaf unique. Monstera leaves are always used in festive Hawaiian celebrations (Luau) as ornamental adornments to the floral arrangements, centerpieces and musical stage. Personally, the Monstera Leaf is my Corporate Signature Logo. A Pendant in this Collection was featured on the cover of the nationally acclaimed book, DESIGNER JEWELRY SHOWCASE – 2009. The necklace features natural undyed multicolored grade AA pearls. Unblemished lustrous peach, lavender, white and pink pearls including stick pearls, coin pearls, and round pearls of different sizes and shapes are arranged around the central extra large silver Monstera Leaf. The matching earrings are available in five sizes. All sterling silver.
Dimensions: The Pearl Jumble Necklace is 24" length with the center Monstera Leaf measuring 2" long x 1 1/4" wide. Earrings:
Small - 7/8" x 1/2"
Medium - 1 1/8" x 5/8"
Medium Large - 1 3/8" x 7/8"
Large - 1 5/8" x 1 1/8"
X-Large - 2" x 1 1/4"
All of our products are handmade
by expert makers.