Toccata Pendant: Mexican Fire Opal, High Karat Gold And Pearls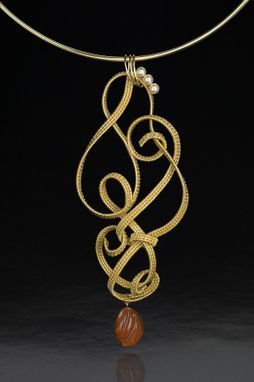 22kt and 18kt gold wires were woven together by hand, flat, off loom, and then shaped; 9.92ct Mexican fire opal briolette carved by award-winning lapidary artist Sherris Cottier Shank; cultured pearls; suspended from 18kt gold neckwire. "Toccata" was created for the "New West Coast Design: Jewelry + Metalwork" exhibition at Velvet daVinci Gallery (San Francisco, CA, 2008).

"Toccata" is comprised of 7 feet of 18kt gold warp wire plus over 38 feet of 22kt gold weft wire; total woven length is 22.625 inches, shaped into the 4.75" high pendant.
Dimensions: 4.75" H x 1.75" W x 0.75" D