2 Flags Display Case - Wall Mounted Box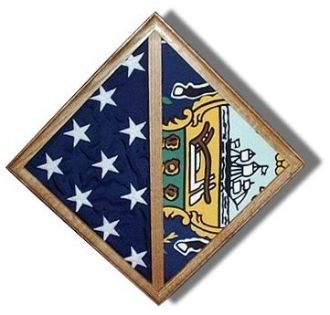 2 Flag Wall Mounted Case - Fit Burial Case. The 2 Flag Wall Mounted Case is the perfect case for hanging on the wall to display two flags. This wall-mounted case can be made to display flags of the following sizes: 3' x 5' and 5' x 8'; as well as 5' x 9.5' flags. The case is handcrafted, and is made with love by a veteran! Made in the U.S.A. Other names for this 2 Flag Wall Mounted Case include: flag case for memorial flags; flag and medal display case; a military flag case; a military flag box; a flag shadow box; a burial flag display; a veteran flag display case; and a flag display. For those who want to display more than one flag at once, no matter what the combination of flags are— perhaps a military flag and American flag placed side by side— this wonderful 2 Flag Wall Mounted Case addition to a wall in your home or office is a keepsake for multiple purposes. Display this 2 Flag Wall Mounted Case as a military branch display case, a memorial flag display case, a burial flag display case or a police flag or firefighter flag display case. Whatever the end use, this attractive flag display case, roomy enough for a double flag display, is perfect as an enduring gift for military servicemen and servicewomen and their families. The encased compartment is also perfect for display at government buildings, where state and provincial flags can be combined with the American flag to enhance an office building's sense of place and patriotism. Give as "made in the USA" gifts as special thank-yous during this busy election season, or for any season. The 2 Flag Wall Mounted Case is also ideal for flag display gifts for those entering or retiring from the military or college. For military veterans, what better way to show appreciation than giving this gift as a special veterans flag case, with double-folded Army, Navy, Marines or Air Force military flag combined with Old Glory. The 2 Flag Wall Mounted Case will fit : The 3x5 flags . And the 5x9.5 Large burial flags. Size: 22" x 26" x 2.25".
All of our products are handmade
by expert makers.