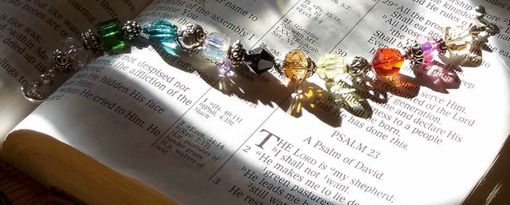 This is a stunning bracelet using the 23rd Psalm in the Old Testament. 9 of the 10 beads are Swarovski Crystals each of them representing a verse in the Psalm by its color. The 10th stone (shown differently in this picture) is a white dichroic bead with reddish sparkles emanating from inside the bead. This particular bead represents "The Lord". I actually reference Revelation 19 verse12 for this bead, as it describes John the disciple seeing Jesus riding on a white horse and He had "fire in his eyes". The next crystal is green for green pastures, blue for still waters, clear for paths of righteousness, black for the valley of the shadow of death, brown for the rod, the staff and the table, yellow for the oil of anointing, red or purple for cup running over, pink for Goodness and Mercy and transparent gold for the House of the Lord. In between the crystals are sterling silver beads and bead caps and a sterling silver clasp finishes it off. Each bracelet can be made with different shades of the 9 colors from dark to light. I also use a variety of shapes so the crystals are not all the same unless you want them so. I normally use sizes 8 to 11 mm for all of the 10 beads and anywhere from 4mm to 11 mm for the silver beads.
To order this, I would need to know 1.) preference of shading and 2.) size of wrist allowing a finger to be placed between wrist and bracelet and 3.) choice of toggle, box or lobster claw clasp.

This bracelet can be worn with anything. You will get many wonderful compliments on it's beauty and sparkle.

This bracelet is guaranteed for 6 months if it should fall apart under normal wear. I will also fix any bracelet due to accidental breakage for a fee. I will also resize it for a fee so be sure your measurement is what you want.