24x36 Matted And Framed Painting, Titled 'Beauty Fades'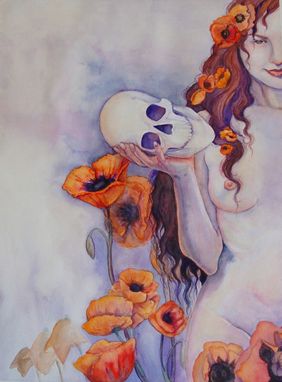 Pieces this big take me 4-8 weeks to complete from start to finish, from initial sketch to matted and famed.

First I start with an idea or concept that I'm going to use as the basis for the project. I begin researching what images I will use as references for my sketch. After I have taken photos or used stock photos from online references, I will begin the final drawing.

The drawing is completed to look like a black and white version of the painting. This helps me to know what the lighting in the finished painting should look like. This usually takes me 2 weeks to complete.

I then transfer a line drawing of the sketch to 140 lb Arches cold pressed watercolor paper. This is when I begin my painting process. It takes me about a month to paint, if I paint for five hours per work day. I continually use my researched references to help me create a realistic look to my work. I use several transparent layers of watercolor to create my work and used different techniques of watercolor to achieve the effects I wish to display in each piece so each painting is unique.

I want to infuse each of my pieces with a sense of beauty and wonder, no matter the subject. I use art nouveau and pre-Raphelite works as sources of inspiration for my own works. I also appreciate Surrealists and try to incorporate that into my work as well. I especially like to use pieces in nature to portray a certain feeling as well as expressing beauty, which is the reason you will find flowers, oceanic-type life, and human form in my work.

Though Beauty Fades is already sold, I am open for commissions to do similar work. I will not recreate the same piece because it destroys the artistic integrity and uniqueness of the original piece, but I am very willing to create a different painting with this painting in mind, perhaps using some of the same elements, such as the female form and flowers in nature.


All of our products are handmade
by expert makers.