3d Chanel Inspired Rhinestoned Platform Heels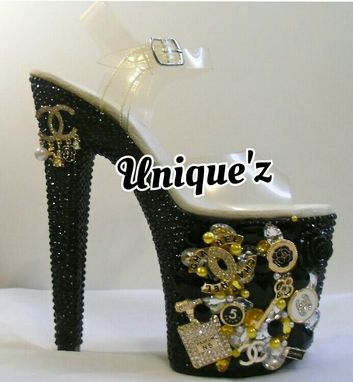 Our "Chanel Platform Heels" are truly UNIQUE because they are hand made products that you won't see anywhere else. These shoes have black rhinestones all over the ENTIRE shoe. On the platform of the shoes, there are Chanel symbols surrounded by gemstones, pearls, and flowers. Your can get crystalized NAME on the heel of the shoe. These shoes are a definite attention grabber and no matter what occasion; with these shoes you are going to stand out and be different from the rest. These are custom made shoes so if, you want a pair of shoes that we don't offer, then let me know what you want be sending me a message.

REMEMBER: ANYONE CAN STAND OUT BUT NOT EVERYONE IS UNIQUE:-)

WE OFFER:
- SHOE SIZES - 5.5, 6, 6.5, 7, 7.5, 8, 8.5, 9,
- RHINESTONES - ALL COLORS!
- HEEL: 6.2 INCHES
-PLATFORM: 2.5 INCH

THESE SHOES ARE CUSTOM MADE; SO IT WILL TAKE 1 TO 3 WEEKS TO MAKE THEM AND THE SHIPPING WILL TAKE 3 TO 5 DAYS!

P.S. WE DO SELL OUR PRODUCTS WHOLESALE, SO IF YOU HAVE RETAIL STORE, A BOUTIQUE OR YOU DO FASHION SHOWS; SEND ME A MESSAGE WITH HOW MANY PAIR YOU NEED. I WILL GET BACK TO YOU ON THE PRICE.