Glass Sphere Floating Bubble Jars - Extract - Oil Bottle,Glass Vial, Stash Jar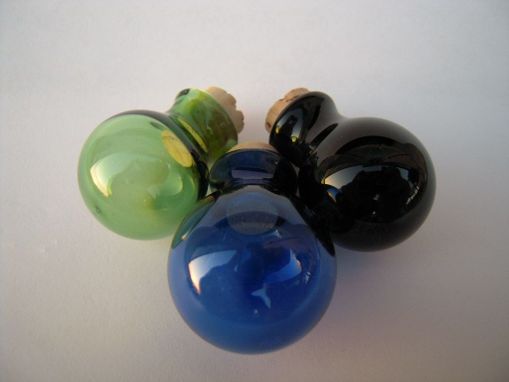 - Extract - oil bottle, Glass vial, stash jar, pill bottle, Ashes

Happy Hollow Glass

These Babies (all puns fully intended) keep your stash where you put it.

Wet or dry

Every Tiny Little Jar comes with a Tiny Little Cork


Now That's Happy Glass!


Note: Handmade items will always have slight color and size variants


Coloured Glass helps block UV rays that devalue the contents of your vial.


Glass Egyptian inspired vials


Vials like this can be linked to various cultures throughout history -
Especially Greek and Egyptian times where they were commonly used to store and preserve oils, scents, perfumes and even tears.


"vessels get their names from their shape, and each shape had a relatively specific purpose"

Perfume - BHO - Dabber - Stir stick - Essential oil - therapeutic remedy


SAFE for HOT or COLD - Borosilicate glass specifically designed to withstand thermal shock.



Thank you for supporting Austin's Zero Waste Hot Glass Studio!

Fully enjoy your original handmade work - BE A KNOWLEDGEABLE buyer and Buy Happy!

**note: All torch worked glass from Happy Hollow Glass Studio starts with the highest quality borosilicate tubing and rods.

All Happy Hollow Glass is properly annealed in a digitally programmable kiln for maximum control.

Annealing glass is critical to its durability. IF GLASS IS NOT ANNEALED, it will retain thermal stress and decrease overall strength and durability where even the slightest tap could cause a crack or break.

By purchasing from Charlotte McGrath or any site associated with Happy Hollow Glass Studios (a.k.a HHG) - you release HHG from any and all liability due to broken glass injuries - All Happy Glass is GLASS and it is the nature of glass to break occasionally. Care should always be used when handling glass. Should your item break for any reason PLEASE contact me to discuss repair or replacement. All glass straws have a lifetime warranty. Must include original items and invoice copy (paper or digital) with return.
By purchasing any item from HHG you acknowledge that you are 18 years of age or older.
All of our products are handmade
by expert makers.