6-Bottle 2-Glass Iron Wine Rack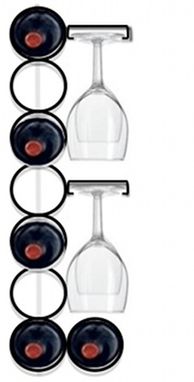 Material: Wrought Iron
Type: Home Decor
Mounted/Fastened: Can be either Side or Back mounted. This pictures above have the item mounted on the side against a cabinet.
Iron measurement: 1/4" x 1/2" thickness
Unit measurement: 30"h x 9"d x 12"w- 8 wine glass wine bottle rack measurements. (Please contact us for the smaller sizes available)
Unit weight estimate: 20lbs
Color: Please use the colors menu at the top to select.(We can do any color of your choice)
Storage: Holds 4 different sizes: 2, 4, 6, 8 wine glass/wine bottle racks. Also includes a wooden shelf for Shot glass storage.
Sizes available: This unit comes in several different sizes. Just let us know at checkout how many wine glasses and wine bottles you have and we will make this model to fit your storage needs.
Made in the USA
Note: Glasses & Wine Bottles-Not included.
Dimensions: 1/4" x 1/2" thickness
Unit measurement: 30"h x 9"d x 12"w