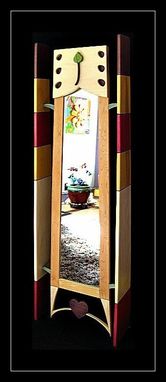 Custom designed, one of a kind, signed '6ft Stand up Mirror'. Designed for a client as a birthday gift for her teenage daughter.
The purple Heart on the lower part of the design signifies the daughters father who lost his life in the military, and received a purple heart that the daughter carries with her everywhere.
The mirror design is made of a maple and stands 6'.
Dimensions: 6' ft x 2' ft