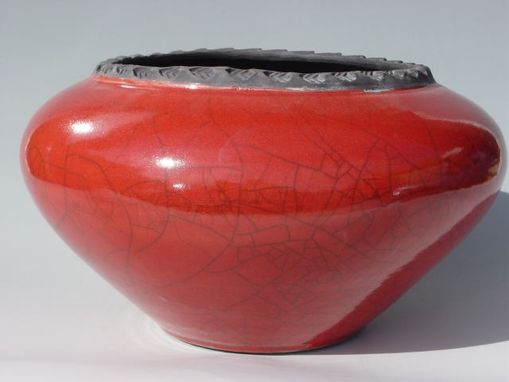 8" RAKU CACHEPOT
ACUTAL SIZE OPENING 8.5" 15" WIDE X 9" TALL

8" cachepot will hold a two gallon cymbidium container or three 4", excellent for large floral displays.

A decorative raku ceramic container for pre -planted plants or artificial arrangement.
When used with live plants a liner and saucer must be used inside the cachepot to avoid condensation and seepage fropm underside of cachepot.
The listed size of Cachepots corresponds to the size inner planter that the cachepot will.
The Raku patina, shape and color make the cachepots ideal for orchids, tropical plants and artificial arrangements.
The range of raku colors bridge from the arrangement to its setting, and will complement traditional to ultra contemporary decor.
We work to stay on top of the new trends while keeping a firm underpinning in the tradition of classic ceramic and pottery styles.