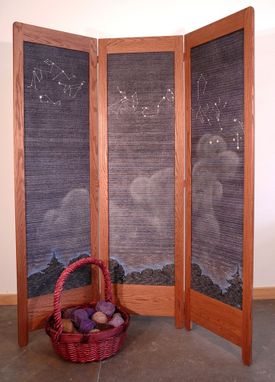 9 CONSTELLATION SCREEN shows us a skyline of tree tops over-arched by an array of nine star constellations shown in the order in which they appear in one portion of the night sky: panel 1- Acquarius, the water bearer; Capricorn- the goat; The Big Fish. Panel 2 – Sagittarius – the archer; The Crown; Scorpio. Panel 3 - Libra -the scales; The Wolf; The Centaur; The Southern Cross. The stars glow in the dark.
The screen panels are handwoven, glazed and embellished with acrylics providing a firm surface which can be lightly washed, vacuumed or brushed to clean. These tapestry panels are affixed to thin board panels with professional adhesive, then framed and hinged by the woodworker. The back of this room-divider is solid, dark green velour which the owners use as backdrop for a desk area, sometimes displaying smaller works of art on the back of the screen.
The frame of the screen in this case is stained oak.