9" Dream Catcher, Handcrafted - Arrowhead - Buckskin Leather & Soft Feathers, Handcrafted Native American Decor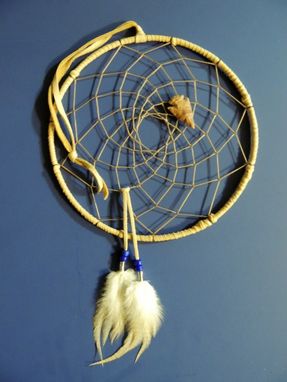 9" Dream Catcher, Handcrafted - Arrowhead - Leather & Feathers, Native American Decor

Arrowhead focal point, golden buckskin deer lace leather wrap, soft yellow & white fluffy feathers with deep sky blue glass crow beads, sinew threading.

Native Americans believe the air is filled with both good and bad dreams. Historically, dream catchers were hung in the tipi or lodge and on a baby's cradle board.
According to legend, the good dreams pass through the center hole to the sleeping person. The bad dreams are trapped in the web, where they parish in the light of the dawn.

Original one of a kind handmade in our studio, all genuine materials.

Ready to ship! Or send request for custom design.

Great native decor, home decor, rustic charm, tribal wall art, southwest gifts and unique house warming idea.
Dimensions: 9" circular and 25 inches total length.