9" Dream Catcher, Handcrafted - Native American Decor, Arrowhead And Gold Buckskin Leather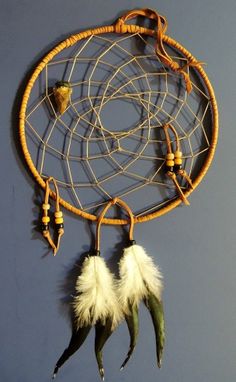 9" Dream Catcher

Handcrafted Native American made - Genuine soft buckskin leather hand wrapped, hand weaved sinew with arrowhead focal point.

Unique arrowhead colors, deep forest green, dark golden yellow agate stone hand knapped. Earth tone glass crow beads of beige, gold and black. Natural color sinew thread. Fluffy high quality feathers with iridescent long black tips from natural harvest.

Native Americans believe the air is filled with both good and bad dreams. Historically, dream catchers were hung in the tipi or lodge and on a baby's cradle board.
According to legend, the good dreams pass through the center hole to the sleeping person. The bad dreams are trapped in the web, where they parish in the light of dawn.
The arrowhead or other focal point is an offering to the spirits to "bless the sleepy ones".

Each piece comes with Legend of the Dream Catcher story card.

Native American decor, southwest cabin decor, religious and spiritual, rustic charm, tribal art, southwest gifts and unique house warming and wedding gifts and wedding favors - the 4' inch dream catchers are very popular bridesmaid gifts in wedding colors. Great for baby showers and birthday gifts.

Thank you for buying Native American - Handmade in the USA
100% Satisfaction guaranteed.

A few thank you notes from my customers:

"Gorgeous, I love it and it looks even better than the picture, thank you!!"

"LOVEEEEEEEE - it is absolutely Beautiful"

"200% satisfied! Highly recommended. Greetings from France"



Dimensions: 9" x 23"