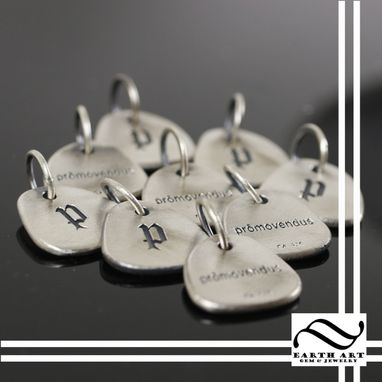 These charms/pendants were made for a customer using their logo and name. They are meant to look somewhat organic, smoothed out, as if tumbled by a stream bed, and then picked up.

Each one has a P on the front, and the name on the back, plus a solid soldered ring for the chain.

I always include gift boxes with each piece, plus the optional free chain or key ring.

If you would like to order your own custom set of charms for your company, or as gifts or for another occasion, please contact me.

Most sterling silver charms start at around $80 - $150 for one piece. Then the price per piece is dropped for each additional piece depending on the size of the order.
All of our products are handmade
by expert makers.
Donna's review

• Apr 18th 2013

Austin was professional, easy to communicate with, and a pleasure to work with. He went back and forth with me as much as was needed to get the project just right. He showed me 3D sketches and photos along the way. I hired him to create silver pendant for me, I had a specific vision, and the result was just what I was looking for! I will definitely work with Austin again.