A Necklace Pendant Of The Number 23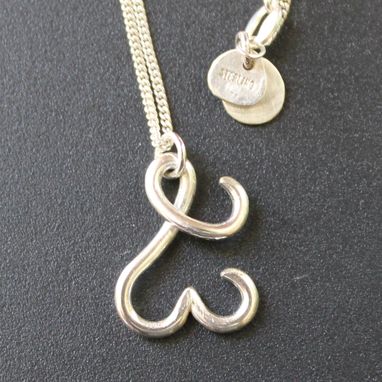 Beautifully simple, fluid and elegant, this very personal and meaningful sterling symbol was created from sterling wire.
All of our products are handmade
by expert makers.
Ken P.'s review

• May 31st 2016

Thank you so much. Much appreciated. Everything was done well, and the piece was lovely.

Rachel Y.'s review

• Dec 19th 2012

WOW! Laura designed my necklace pendant and I absolutely adore it! It has an elegant yet simple feel to it, which is exactly what I was hoping for! The craftmanship is stunning. She communicated with me so well during the whole process and made sure she understood what I wanted, and she was very timely in her feedback as well. It was really a super simple process the way she walked me through it. First I told her what I wanted and I even drew out a sketch of what I had in mind. She not only was able to replicate my image, but she also suggested adding a depth characteristic to it that makes my necklace even more unique. It gives it that extra wow factor that I wouldn't have thought to do. I am so pleased with my necklace! I wear it everyday, all the time, and if I'm not wearing it I put it in a small black pouch that was included with it to keep it safe and clean. Laura also informed me about her process on how she was making it and even about the different metals, because I wasn't sure about the benefits of them or which metal to choose initially. The price was affordable and definitely worth it - I had expected to pay a lot more than I did. She also had free shipping which was nice, and the payment was very simple. This piece was something I had been looking forward to getting for a long long time. It really means a lot to me - it holds a very significant meaning to my life, and I was extremely pleased with how Laura kept me informed and involved throughout the entire process. I have absolutely NO complaints. Couldn't have asked for a better experience or person to make this necklace for me. I HIGHLY recommend Laura with Lsf | Designs for any of your unique jewelry wants/needs. You won't be disappointed!