A Rack Of Beer- Handblown Beer Bottles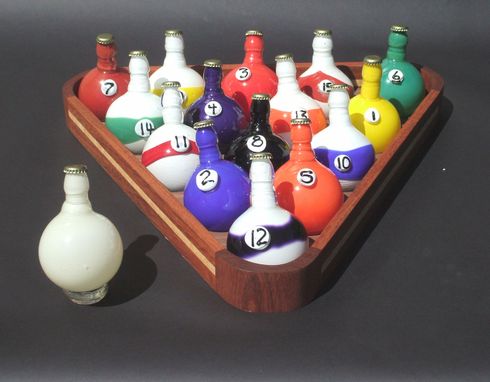 A tongue and cheek glass sculpture that combines form and function with an emphasis on Fun!
I have been homebrewing beer and mead for over twenty-two years and have been making custom bottles and drinking glasses ever since.
This sculpture was both fun and a challenge to make.
Getting the rights colors and numbers to match was the first big task. Next, creating the mold to blow the glass in was my second chore. Then finding a skilled woodworker to make the rack to display them in was my final challenge, (thanks to my friend Carlos Reneer he came through!), and I do believe it came out well!
A part of my own permanent collection because I love it so much, I would be happy to recreate another one if you're interested. or I would be thrilled to make a bottle in your own design and colors.
Just drop me a line and tell me what you'd like!

Dimensions: 24" wide, 8" tall