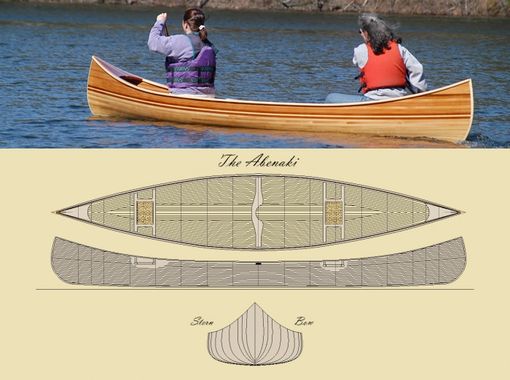 The Abenaki prototype was built during the production of our "Cedar Strip Building" DVD at The Newfound Woodworks in 2004. We launched it in April, 2004 and have been delighted with it's performance. Many first time boat builders have built the Abenaki as their first project. It is straightforward strip construction.We named the Abenaki in honor of the Native Americans who once paddled and fished the inland waters of southern New England.

This canoe is loosely based on old Maine canoe designs with traditional re-curved stems and slightly flatter bottoms than the old designs originating in Canada for greater initial stability. One can imagine this canoe packed with a week's gear for the ultimate paddling adventure. The Abenaki is fairly beamy with large capacity and good stability, similar to the traditional "Prospector" design. This is a great all around canoe design. Take your kids and/or dog and paddle about on lakes and slow moving rivers.
Dimensions: Length 16' Beam (BOA) 35.25" Beam (BWL) 34.15" Shearline Beam 34.63" Weight 56 lbs. Displacement (Capacity) 500 lbs Draft (at Capacity) 5.00" Center Depth 11.76" Depth at Bow 23.22" Rocker 2"