Abstract Painting: "Christ Conquering The Spirit Of Wrath"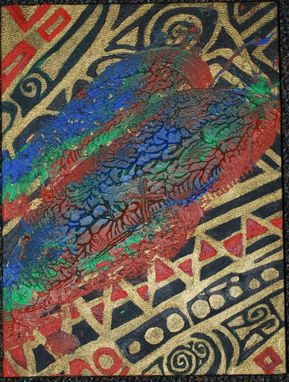 This is one of my earliest abstract pieces. It was a challenge from some friends of mine to do something more abstract and linear, rather than the impressionistic landscapes which I had been doing.

So I set out to depict my anger, throwing in some Mayan imagery into the mix, which rather startled me, and it was especially interesting to watch this develop.

Next, I wanted to represent Christ overcoming this anger of mine, and I decided that it would be best if I beat it with a sandal.

So I did, after I was stuck in rush hour traffic on my way from the Boston Airport. The three colors represent both the Trinity, as well as the traditional color depiction of Christ as man, Christ as God, and the Holy Spirit.

This painting proved to be pretty popular, finally selling for $45.00. The piece was small, at 12"X16"