Abstract Painting: "Holy Saturday: The Abolition Of Hades"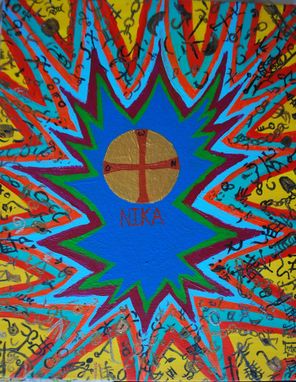 Orthodox Hymnography on Holy Saturday describes Christ's decent into Hades, to liberate the dead there, and bring them to salvation. The gates of death are smashed. I've always seen this event as a great explosion, with shrapnel flying everywhere. This violence of the abolition of the institution of Hades, and by extention, death, I've tried to depict in this piece which has a distinct nod to classic comic book illustrations through the use of vibrant colors, as well as a nod to the great Byzantine Catholic pop artist, Andy Warhol.

It's decidedly more akin to Pop art than the others in this series, again, trying to signify how this date is a bit different in the Orthodox Calendar; Christ is in the underworld, kicking death's ass.

Like all pieces in this series, it is 16"x 20"