Adirondack Chair Set With Porcelain Top Table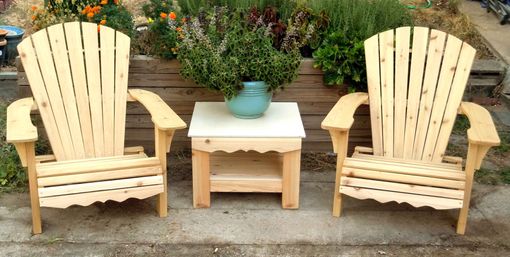 Made from western red cedar. Unfinished.
This set is made from quality cedar. It's extremely solid and comfortable. Legs are made twice as thick as most other Adirondack chairs and additional bracing makes this a quality piece of work.
All fasteners are Dacrotized for environmentally friendly weather proofing.
It is contoured in the seat and back.
Chairs and tables sold separately or in a set.
Price is for set.
Finish of your choice can be arranged for a small fee.
Dimensions: Chairs are ideal for folks 5'5" to 6'3". Seat is 24 inches wide, stands 37 inches tall.
Table is 24"x24". Top is porcelain tile, frame cedar.