Adventure Time Fiona Ear Flap Ear Fleece Hat In 6 Sizes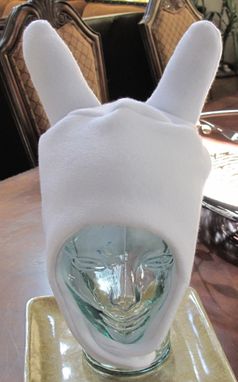 Adventure Time Fiona Bunny Ear ,ear flap white fleece hat in 6 sizes

Size Chart:
Xsmall = 19 inches
Small: = 20 inches
Medium: = 21 inches
Large: = 22 inches
XLarge: = 23 inches
XXlarge: = 24 inches

Fabric: white fleece
Materials: velcro for closure
The ear flap material is doubled, all edges are overlocked. The ears are stuffed with stuffing to make them stiff and stand up.
Items produced by Eva Vanecek with pride in the USA.
Any questions, please ask before purchase.