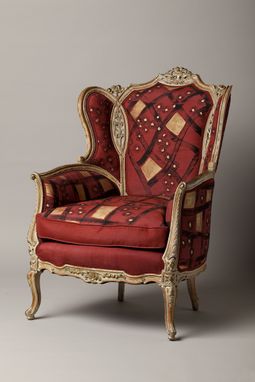 Alabaster Rouge is in the Style of Louis XIV French antique with glazed finish on the woodwork. The cushion is down, and the interior
upholstery is horsehair - all original to the piece.

The fabric is a Silk Hemp blend, hand painted with a Trellis and Chrysanthemum print in Terracotta, black and Burnished Gold.
Finished with traditional gimp trim.

The dings and dents of their history have been intentionally left behind. We're not trying to produce new furniture. We're giving new life to old and recycling.

60 % hemp and 40% silk. This fabric has a subtle sheen and a silky smooth finish.

Dimensions: 44highX 26deepX32wide