Amethyst And Emerald Earrings - Gold Vermeil And 14k Gold-Filled Earrings - Exotic Teardrop Earrings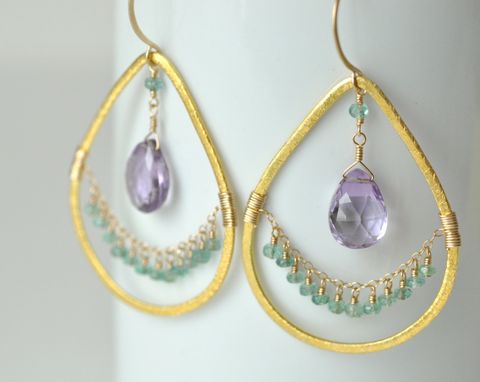 These earrings are a celebration of the 2013 Pantone color of the year: Emerald! They are a little exotic and perfectly delightful. The balanced design makes them elegant for a professional setting, yet the movement and shine of the center stone makes them transition well into all hours of the night!

Emerald beads hang from 14k gold filled chain and are combined with a light purple Amethyst teardrop in a gold vermeil frame. Earring wires are handmade of 14k gold fill wire.

Earrings hang ~2.5'' (6.5 cm) from top to bottom and are ~1.4'' (3.5 cm) wide.