Ancient Fibula Cloak Pin Circa 5th Dynasty B.C.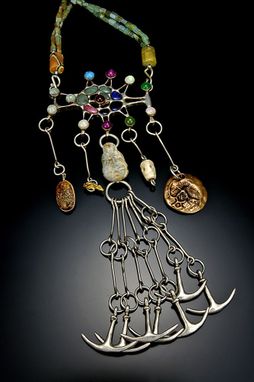 This is a copy of an ancient fibula pin from the 5th to the 3rd century B.C. in the Baltic's. What looks like anchors are fetish symbols that usually represents the addition of family members, much like our charm bracelets. I cut and mounted all the stones in this piece.

It is made out of Tourmaline, Rhodochrosite, Peruvian Opal, Turquoise, Gold, Amber, Bronze, Jade, Lapis, Aquamarine, Ruby, Malachite, Sterling findings. The necklace part is made out of Peruvian Opal.
Dimensions: 7.50 x 7.50. x .50 inches