Animator's Desk & Workstation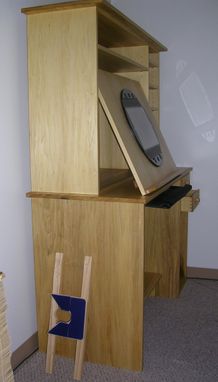 This animator's workstation was crafted for an animation professional artist currently living & working in the Greater Los Angeles area. The final design was a collaboration with the client who had provided a hand-drawn sketch containing general elements & dimensions. Necessary adjustments were made to incorporate the client's personal ergonomics to best maximize comfort, efficiency & ease while working. The desk was designed to allow the client to transition from working in traditional 2D drawing to computerized graphic drawing using tablets such as Cintiq & related Wacon products & accessories.

The desk is constructed in two sections for ease in transport. The lower base section includes handcut dovetailed drawers, angled footrest for comfort, an adjustable slide-out keyboard tray & storage for computer towers. The upper portion includes adjustable shelving, lighting & two fully adjustable drawing tables to accommodate a wide range of work-surface angles. One drawing table is to accommodate an animation disc, light box & pencil tray for traditional drawing and the other to accommodate a Williford retro-fit shoe to hold the Cintiq tablet.

Dimensions: 55 1/2" wide x 68" high overall & 24" at deepest point