Antique Reproduction Pie Safe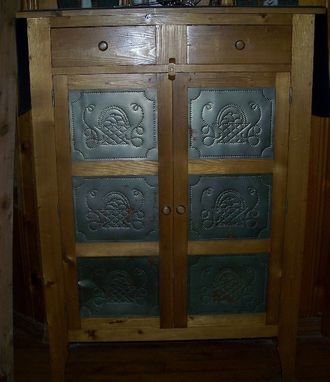 Pie Safe.....Our Prarie Winds Pie safe
Another fine Old School Custom Furniture original

One of our most popular pieces is our Prarie Winds Americana Style Punched Tin Early American Pie Safe. This lovely pie safe is great for just about anything. It can store linens, blankets, canned goods, books...and of course...pies!!!!

Our pie safe is shown here crafted in highly prized and sought after Ambrosia maple (AKA wormy maple) with antique finish and punched tin on the front panels.
The pie safe is 39 1/2 wide X 14 deep X 55 tall.
The inside feature 3 shelves to hold books, towels, etc.

Our Pie Safe is also great for linen storage and features 2 drawers on top. It is also available with drawers on bottom instead of top. This pie safe also functions beautifully as a bookcase, cupboard for extra storage of linens, cabinet for extra pantry staples, storage for out of season items, etc.

Our pie safe cupboard is a wonderful addition to any home, and really increases cupboard and shelf space for the home. In addition, our pie safe can be custom made to your specifications as far as size, color, style, wood, etc. The punched tin can be in any design you like. If you need something in a slightly different size, we can do that for an additional charge.

Here at Old School Custom Furniture we are fortunate to own our own sawmill and kiln. This means we can mill and dry our own lumber, which gives us an extraordinary amount of control over the quality of the wood we use. The ability to mill our own lumber means we can make perfectly matched panels and doors.
We prefer to work with hardwoods, so our mill also gives us the ability to use more expensive hardwoods for the same price as other Furniture Artisans using soft pine.

The pie safe is shown in natural wood, but is also available painted, distressed and aged.This pie safe can also be used to store books, CD's etc.The types of woods we have varies considerably, but we always have cherry, walnut and oak on hand.

Stock colors shown on color chart. Please note...distressing and aging will darken up the colors. If you are unsure of what the color will look like, we can send you a sample of the distressed, aged color before finishing your piece.

We can also accommodate any custom colors you may prefer for an additional $15 charge. To use your custom color you must supply us with the manufacturer name and the color code or color name to have it reproduced here.

Any questions, just call or email and we'll be glad to give you a quote so there will be no surprises!!

Our pie safe, as well as all pieces we make, are handcrafted one piece at a time. Right now, we have lots of work, which is a GREAT thing, but means our completion times are running 8-10 weeks from order on these larger items.

We look forward to doing business with you. You'll never go wrong with a Old School Custom Furniture Original.
All of our products are handmade
by expert makers.