Appliqued Denim Jacket With Embroidered Silk, Batik, Vintage Lace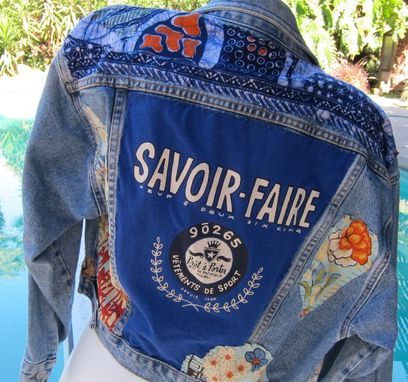 I was planning on just doing the back of this jacket, but interesting fabric combinations kept coming along and sometimes a girl just can't say no. But I digress ...

The bright blue panel on the back of the jacket is repurposed from a great old French t-shirt. (Translation: Savoir-Faire was a sportswear store in Malibu on Pacific Coast Highway, with the Zip Code 90265.) The batik across the shoulders in back is also repurposed fabric, as are the Asian-inspired side panels. In front, there's more of the Asian cotton fabric, repurposed embroidered silk in a floral pattern, a small piece of ultra suede and a floral cotton print that's actually -- gasp! -- new!! Everything has been sewn on by hand with embroidery floss.

The images here don't quite capture all the various fabrics as well as they should, so if you'd like to see more detailed photos or different angles, please let me know.

The jacket itself is secondhand. The label says "Bongo." It's 100% cotton and the size is listed as a small, but it's a very roomy size small. Across the chest at the underarms, it measures 38." From just below the collar in back to the bottom of the hem in back, it's 20" long. The sleeves measure 19" from the shoulder seam to the end of the cuffs. If you need additional measurements, just email me. Because there are different fabrics used in the appliques, I recommend an environmentally safe dry cleaner.

Is there a plain, unembellished denim jacket in your closet? I can fix that! These are fun to make and the different color combinations and themes are endless.