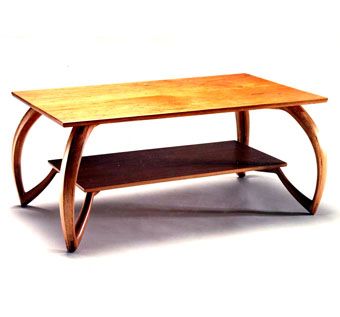 I was commissioned to make this table with only one requirement: that it not have a glass top. The reason that most designers love "restrictions" is probably why I had a terrible time narrowing the idea, but once the parabolic curves appeared in my sketchbook, the rest followed easily enough.

After making the forms to laminate the legs and tapering and gluing the laminations, and cutting the joints and assembling the leg structures, the major investment of time was in shaping the final forms. There was no way to use machines for this. I had to shave and rasp and sand them by hand. I made two of them in cherry, one for my customer and one to show.

Ironically, one of the managers of the League of New Hampshire Craftsmen's shops took me to task for hiding the legs with a wood top. If I had them to do over again I would, in fact, consider glass, with holes bored in it to fasten the legs.

Dimensions: 30 x 60 x 16h