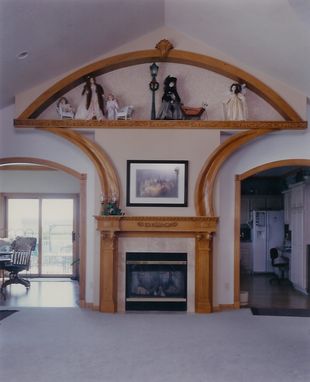 Lead Time : 4-8 Weeks

Designers: Ted Geers, Owner of YB Normal Custom Woodworking

Materials: Flat-Sawn Red Oak

Finish: Stained to match client's door trim, clear Italian conversion polyurethane, 40 Sheen.

Product Description:
The arch top mantle has 7" wide fluted columns with carved capitals, plinths, onlays and a top center shell. The supporting arches are 11" wide, and 4" thick solid, red oak. We hand carved the "dished out" center for an added effect. The upper curved molding is handmade to match the ceiling curve.
Dimensions: 13' High x 72" Wide x 10" Deep