Ariel Land Dress Version B Gown Adult Costume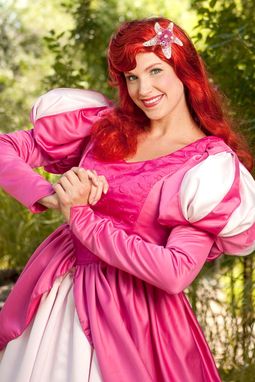 This beautiful Ariel dress is a version where she comes on land. It's made from two colors of satin and an embroidered organza in the bodice. We've done the sleeves oversized for that extra special princess. Skirt is a light pink satin and plain and worn under the bodice with dark pink panniers.

Dress can be worn with a crinoline or hoop or without one at all. No hoop pictured.

Wig and hair piece sold separately.

Sometimes looking at other versions online can be deceiving. Here's what makes our costumes different and worth their cost:

1. Structuring within the costume, twill, interfacing, and extra efforts to make sure seams and materials don't unravel. We take the extra step to use all those wonderful tools like interfacing, twill tape, bias tape, and more so that everything is reinforced to last for years.

2. Our skirts do not have elastic waist bands. Some companies or individuals use this to cut time and cost. Our skirts in our costumes have a real waist band with hooks and eyes like a couture fashion garment.

3. We don't skip the modesty panels. When our costumes expand sizing or are adjustable they have modesty panels to cover the skin in both skirts and bodices.

4. We use the finest materials. Bridal satins, velvets, brocades, silks, and more.

5. Our costumes are lined. Not just with cheap lining, we self line which means the outer fabrics and inner fabrics are of the same quality. This helps with longevity and wear on your costume.

6. Design. Design is our strength, we work out the bugs and get you the finest closest version to film, play, movies, and characters. But we also can do budget versions of our costumes if you do need to cut corners.
All of our products are handmade
by expert makers.