Custom Painting For Home, Arriving At Paradise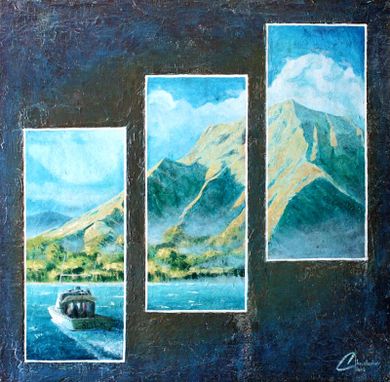 This is an original painting done for my good friend Tim, who had an enormous wall over his staircase to fill. We discussed ideas for a painting, and we arrived at doing a Hawaiian seascape. The final painting was 60" x 60".

He was specific about including a fishing boat that he had always wanted to own. His dream was to call it "SeyVon", (pronounced "see-von"), named after his two daughters Chelsey and Devon. I created this majestic mountain seascape, with an interesting design element of a stair-step window effect, to compliment the huge staircase. The painting includes the fishing boat putting home after a memorable day at sea. And who is in the boat? Why Tim and his two daughters of course. And the name on the back of the boat displays proudly, "SeyVon", a dream come true indeed.

Let's have a conversation today about the vision in your head. Together, we can turn that vision into a beautiful painting you will cherish forever.