Art Deco Vanity, Dressing Table, Small Desk - As-Is Or Ready To Refinish (Custom)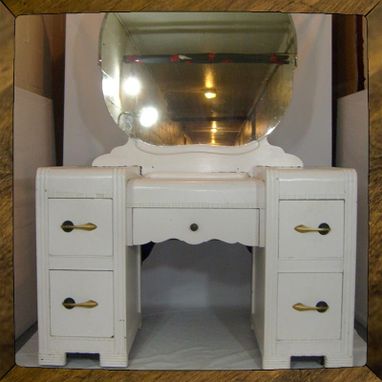 NOT YET REFINISHED -- but available for customizing any way you like it! This great Swing Era Art Deco piece has a matching dresser available, and comes with a mirror or without. Suits a bedroom or dressing room, and could even double as a small writing desk.

AS-IS - $350
Refinished, with mirror: $600
Refinished, without mirror: $550
Combined with matching dresser: -$50

The mirror is as old as the piece (circa 1930) and the silver is torn or antiqued around the edges. Price includes basic refinishing and liners (special request finishes extra up to $875). Price does not include shipping.
Dimensions: Unit measures 28.25" H x 44" W x 18" D

Middle drawer measures 3" H x 17" W x 11.5" D
Top drawers (2) measure 7" H x 7.75" W x 13.5" D
Bottom drawers (2) measure 8.5" H x 7.75" W x 13.5" D
All of our products are handmade
by expert makers.