Art-Glass Back-Lighted Display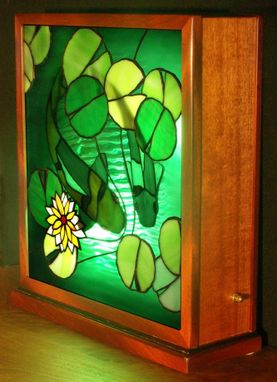 I originally designed these pieces thinking they would be wonderful, peaceful images for patients sitting in a doctor's waiting room. I've made and sold many, but I have no idea how many ended up being used for that purpose. This one uses the "layered glass" technique to get the feeling of the Koi actually being in the water, rather than on top of it as they often appear in art-glass. The ripples in the water actually seem to move and flow as your angle of view changes.

The case is crafted of African Mahogany, and the piece is illuminated with two small compact fluorescent lamps.
Dimensions: Approximately 21" wide and 23" high. It is 3 1/2" deep.