Art-Glass Decorative Table Lamp, "Honu."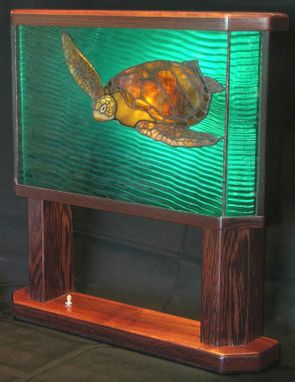 A table lamp depicting the graceful glide of one of Hawaii's Giant Green Sea Turtles. This piece is constructed of Hawaiian Koa and African Wenge, an exotic wood that is nearly black in color.

The "Honu" (Hawaiian name for the Giant Green Sea Turtle) appears to be floating in the rippling turquoise water, an effect that is made possible by the art-glass technique known as "layering," The Honu itself is created from many pieces of carefully-selected mottled art glass, a variety in short supply since it is no longer made.
Dimensions: Approximately 22" high, 21" wide and 4 1/2" deep.