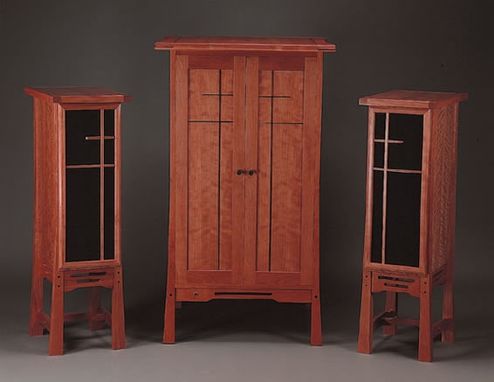 This has been the most popular design and I have built several dozen pair. Most have been in cherry as pictured, but also walnut and mahogany. They are also one of the more labor intensive models with through ebony wedged tenons, ebony inlays and cloud-lift aprons. They are inspired by Greene & Greene with a little extra Asian influence. The grill is made of cherry with a pencil thin black inlay. The center cabinet is for media storage.

Comment from Benson Tougue, UC Berkeley Engineer professor-

"I have some knowledge of speakers (co-patent owner of technology behind the Meyer X-10 studio monitors) and do some woodwork as well. Thus my appreciation is doubled when listening and looking at Keith's masterpieces. Look, touch, listed and be amazed - they have no peer."
Dimensions: 40" tall x 11" wide and 14" deep.