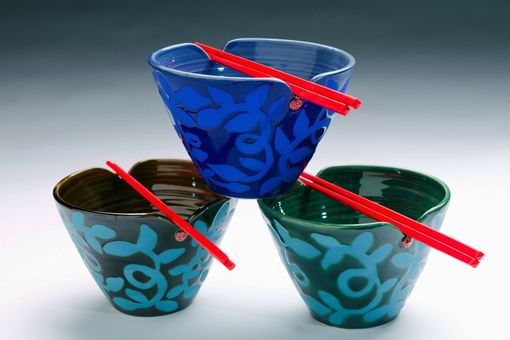 Available in: French Blue/Cobalt, French Blue/Turquoise, Forest Green/Turquoise, Amber Brown/Turquoise, White on White and White/Turquoise.

Approximately 6 inches in depth/width and 4 inches in height

These bowls are fantastic for rice, noodles, soup or your Cheerios! They are thrown a bit thicker on the bottom so you don't scald your hands while eating a hot bowl of delicious goodness. The buttons on the bowl are cast from my late grandmother's buttons and are red to not only accent the piece but because my paternal grandmother had a hot and spicy personality. The design is done free hand and a glossy glaze lay over a matte velvety texture. All Liz Rodriguez Ceramic ware is microwave and dishwasher safe.