Aspen Tree Art--Mixed-Media Dimensional Aspen Tree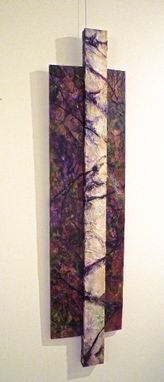 "The Soloist" a mixed-media aspen tree. This artwork plants a tree in your home or office. It is a triptych of connected gallery-wrapped canvases (48"x6"x1"/ 60"x4"x1.5"/48"x4"x1") for a unique dimensional effect. This is one example of the "just the trees" series. This type of artwork is available in smaller/larger sizes and as single trees or groves. The piece shown here is available as priced below.
Dimensions: Piece as shown is 60"x18" overall. Individual parts are 48"x6"x1"/ 60"x4"x1.5"/48"x4"x1"

Custom trees are available in combinations of 48", 60" and 72" lengths.