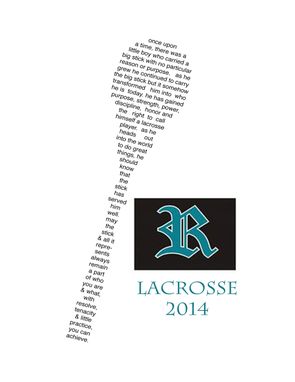 All of my children - 3 to be exact- have benefitted from playing sports - Football, soccer, lacrosse, street hockey, t-ball - and this piece of original artwork was created to honor my Lacrosse player who has gone from 0 to 10 in just 11 short, exciting years. It is called a concrete poem, the words take the shape of the subject matter.

As he graduates this June, I wanted to give him something that was meaningful for both his dad and I as well as him. This year, his team went further than any other at his high school in this sport - a very special time for both child, parent and the community.

This piece can be done for any sport - assuming that the sport has a piece of equipment in which the words can be shaped. A runner can be done in the shape of a sneaker for example.

The work will be sent to you digitally. This means that for a team, you can reprint and give as many times as you would like once it is purchases ! You can have the piece customized provided you can supply a logo. A jersey number, year or anything that you would like can be added. You can add it to a scrapbook or use it as a program illustration. If used publicly, not for sale, you will need to credit the words to me.

A totally personal and memorable gift for any athlete - high school, college or even professional.

Printing, framing and matting services are also available if you prefer the work to arrive 'ready' to hang. Black or Silver frame with team color mat.

Price subject to size, selection and shipping costs. Lacrosse is ready to send immediately digitally in either mens or women's version. Others will be ready in three to five working days.

Thanks for thinking of Whimsyville.