Aubudon Style Aged Bird Print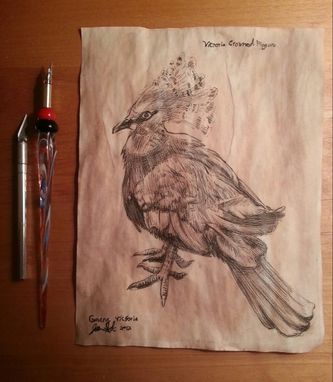 For sale is an 81/2 x 11 inch print of a Victoria Crowned Pigeon, on paper hand aged using a home made blend of natural pigments from the New River Valley Region. The original was drawn by pen as a birthday gift for my English Granny, who prefers flowers, birds, and butterflies to bikini babes and angry punk art.

Each print is aged, signed, and labelled scientifically. Recommended with a rough, dark fence-wood frame for rooms where you'd like to project a warm, rustic sense.

Victoria Crown Pigeons are gigantic pigeons with steely blue plumage, a beautiful soft song, and a more than passing resemblance to a peacock.

Like the image but looking for something a little different?