Avatar Red Ears Panda Fleece Ear Hat In 6 Sizes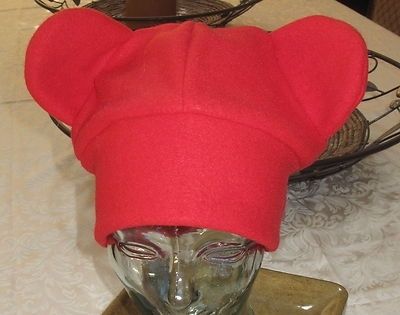 Fleece Avatar Red Panda ear hat in 6 sizes
COLOR: red hat
ANY QUESTIONS , PLEASE ASK BEFORE PURCHASE.

SIZE CHART:

XSMALL: 19 INCHES WIDE
SMALL: 20 INCHES WIDE
MEDIUM: 21 INCHES WIDE
LARGE: 22 INCHES WIDE
XLARGE: 23 INCHES WIDE
XXLARGE: 24 inches

STANDARD ADULT SIZE IS MEDIUM - 21 INCHES WIDE
These are adult sizes , please take this under consideration when ordering.
XXlarge = 24 inches is a pretty big size = big head or alott of hair, measure before buying this size, few folks have exchanged this size for a smaller size, measure your head.

Measurement: measure around your forehead to determine the proper size of a hat.The hat also has a bit of stretch to it.

Washing instruction, wash in warm or cold water, medium or low heat because of the fur ears.