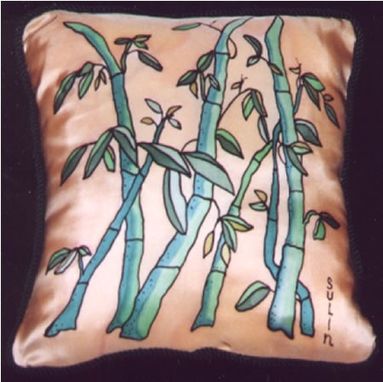 Bamboo, a symbol of strength and endurance, of health and longevity is appreciated in many cultures. This image can be made as soft hangings as well as pillows. The pillow is an original handpainted design using a Serti Resist technique with black resist. They are backed in Silk Noil with corded edges and have a removable inner pillow. The hanging is also backed with Silk Noil and has a top sleeve to insert a rod.
Dimensions: Full sized pillows are 16 - 18 inches. Can be ordered as single pillows or in sets of 2-4 pillows.

Mini-pillows are 10- 14 inches and can also be orderd as single pillows or in sets of 2. The images are adjusted according to size.