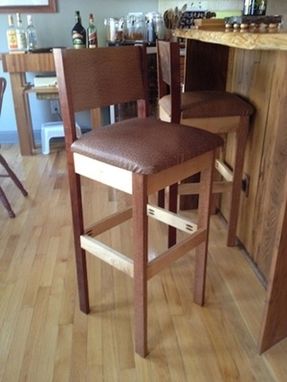 These bar stools were designed specifically to fit under the bar at 42" high. They slide out of the way to maintain a nice flow in the main living room. The back legs are made from Figured Sapele, the front legs are Hondurin Mahogany and the apron is Curly Maple.
The seat and backs are covered with leather stamped with an oscrich pattern and the back rail is covered with walnut burl veneer and the front with the same leather that is on the seat. Walnut plugs add an extrat detail to the back side of the rungs.
Set of 6.
Price is relevant to the wood species and leather type that you choose.