Barrel Stave Cellar Sign--Age Improves With Wine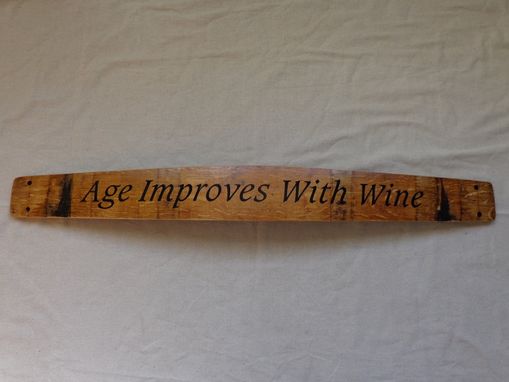 Set a tone of fun and whimsy in your bar or wine cellar! Our Barrel Stave Cellar Sign is handcrafted by the artisans at Alpine Wine Design from an upcycled Napa Valley wine barrel stave, used in production for two to five years. Each oak stave curves slightly away from the wall and retains the authentic markings from the barrel bands and wine.

Barrel staves are each unique, but are approximately 36" long x 3" wide.

Check out these available sayings:
It's 5 O'Clock Somewhere
It's Wine O'Clock Somewhere
In Vino Veritas
Eat Drink and Be Merry
Wine Me Up and Watch Me Go!
Cowboys Are My Weakness
Age Improves With Wine
Love the Wine You're With

Need a cellar sign in a specific size or stain? At Alpine Wine Design, we welcome custom orders.