Beautiful Cherry Refectory Style Breakfast Room Table And Chairs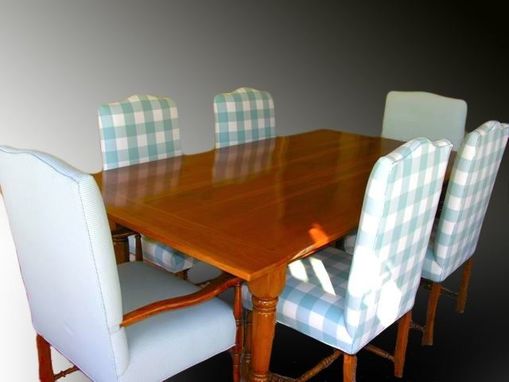 Below is a description of the building process written especially for the buyers.

DINING ROOM TABLE

Your table was made from wild Cherry grown in Southwest Virginia, cut specifically for me and milled by hand.

It has breadboard ends to help ensure minimal warping, bowing or cupping. To accomplish this the end boards are engineered to allow movement of the long boards. Over time you will likely notice this movement by the long boards pulling in from the end boards. This is to be expected. During the drier times, winter usually with forced air heat lowering the humidity in the house, the boards shrink. During the wetter times these boards will expand, so the difference in the gap will change. This is the only piece wide enough to give much noticeable change this way, though all the wood will move through the seasons. Otherwise the table is done in the style of table known as Refectory, which dates back to the 17th century. Over time it will age more and more into that look. It will darken, as you will see on all the Cherry pieces, even though stained. It's a normal reaction to the light. The more light the quicker change.

There are 8 coats of Waterlox on the top of the table, with two coats of Shellac under that, followed by two coats of stain, more than sufficient to provide protection from normal wear and tear of the top. Spills should be wiped up soon and not left to sit, as water will penetrate the seal if left and will discolor the wood if allowed to get that far. Glasses with ice are especially prone to sweating and should not be left for long on the bare wood.

DINING ROOM CHAIRS

Again they are made from locally grown Cherry. They are made at your request in the Elizabethan style. The two armchairs are made to the specifications you sent, although altered some by the addition of the sliders I added to the legs. The sliders are to help with marring of the wood floor. I don't think the addition of these will throw off the comfort of the chair, but if it does they can be removed easily with a screwdriver. One screw holds each slider.

They are all finished with Waterlox as well, where they are not covered with upholstery. The edges the webbing goes around are all eased to slow the long term wear at these points. All edges on all pieces that contact the body are eased as well.

Dimensions: Varies