Beige Tri Color Shag Faux Fur Ears With Metal Snap Hair Clips To Clip To Hair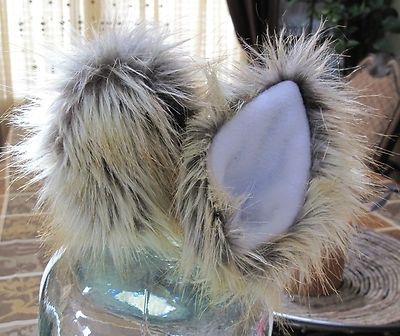 Cosplay tri color beiges long luxury pile shag faux fur with fleece inside lining wolf, coyote, fox, god ears with metal snap hair clips to attach to your hair, clip on headband or a hat.

The dimensions: 4 inches long and 3 inches wide
Fabric: fleece and long pile luxury shag fur
This size fits all.
Fabric: fur and fleece

"With pride, Hand made in The USA by a local artist - Me"
Perfect for costuming at any costuming event, dress up occasion such as plays, parties, Halloween and conventions.

This item can also be purchased with a tail for additional cost, can be found under ears and tails sets.If not there, than it might not be available due to fabric not in stock. Please ask.

If the item is in stock I can ship within one day. If I have to produce it than give me couple of days to ship out.

Any other questions, please ask.