Belted Bikini With Stone Accent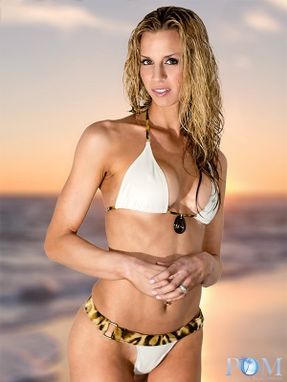 The Belted Bikini with Stone Accents was the original POM bikini inspired by POM Designer Beachwear's very own president, Julie. The animal print belt featuring antique brass accent rings roars as it hugs your curves, while the conservative cheeky backside compliments your natural beauty.

While the bottom of the Belted Bikini is not entirely a thong backside, it was designed with curvy intentions and alluring style. To accommodate this, the top of the Belted Bikini has an adjustable contoured full cover look with an elegant gem embellishment. This is the most conservative design from our 2013 launch and is featured in white sand, coconut brown and coral.

Each piece of every POM Designer Beachwear is hand-crafted using high quality Cabaretta leather. Our bikinis are soft to the touch, but have a strong fiber network to withstand years of visits to the beach. Each piece is chrome tanned using salts of chromium and is water soluble, allowing the natural leather texture to be seen.

The POM family is cultivated from a group of friends eager to redefine the limits of Cabaretta leather. Made in America by women each bikini not only makes your curves stand out in a way only a woman's touch can do, but creates jobs in the local community. From the POM family to yours we hope you will join us on our journey of exquisite designs inspired by the beauty of the female body.